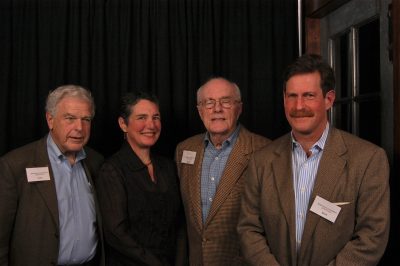 Pictured: Hosts John Hanna, John Dunne and Jason Shaw of Whiteman Osterman Hanna LLP with Foundation Executive Director Betsy Gramkow
(Hudson, NY.)  A sold-out gathering of 300-plus thrilled to a rocking night of music by headliners Yunior Terry & The Cuban Classics at Club Helsinki in Hudson on the evening of Saturday, February 5.
Event hosts Whiteman Osterman & Hanna and event organizers the Columbia-Greene Hospital Foundation deemed the 7th Annual Winter Blast, a fundraiser held to benefit Columbia Memorial Hospital's Kaaterskill Care & Rehab Center in Catskill, a smashing success.
Jason Shaw, representing the Capital District law firm of Whiteman Osterman & Hanna, said Columbia-Greene Hospital Foundation Executive Director Betsy Gramkow's idea "to change the venue to Club Helskinki created an infusion of enthusiasm for the event. It's been completely reinvented." Shaw said he had urged his firm to sponsor the event, and "it didn't take much for them to agree. We're a very community-minded firm."
Columbia County resident and jazz saxophone legend Sonny Rollins and members of his band, making a special guest appearance to open the show, tore the roof off the club with a five-song set. The performance brought people to their feet for numerous standing ovations.
"Mr. Rollins donated his time to benefit the hospital, an incredibly special gift, indeed," said Gramkow.
Yunior Terry lived up to his billing of "big sound, versatility, and contagious rhythm," attracting numerous dancers to the Club Helsinki dance floor.
by Jesse De Groot
On such an icy, cold night, noted Kaaterskill's Director of Nursing Regina Doebler, "the outpouring of those attending on a night like this is amazing."
Doebler said that Kaaterskill, a facility built in the mid-1970s, is undergoing a "culture change. We're getting away from the medical model and making renovations to make it more home-like." To that end, she said, "we are upgrading the furnishings and the décor of the rooms."
Kaasterskill is a 120-bed facility, composed of three wings with 40 beds per unit, Doebler explained. "With the proceeds from tonight's event, thanks to everyone and our wonderful sponsors, we should be able to re-do an entire wing."
Club Helsinki co-owner Marc Schafler was "thrilled beyond belief" to see his club as the site of the event. "It warms my heart. We're really pleased that Betsy came along and wanted to do this event here. It was a mutual effort to get it together. I understand how important the hospital is to this area. They are angels.
"Music," Schafler continued, "is a bonding event. Food. Music. They are things that those from different socio-economic groups can share."
Schafler said he'd had "visions of Sonny Rollins on this stage. With (Columbia County Board of Supervisors Chairman) Roy Brown's help, it has happened."
Other major event sponsors included A. Colarusso & Son, Inc., AOW Associates, and Patti and Michael Schrom.