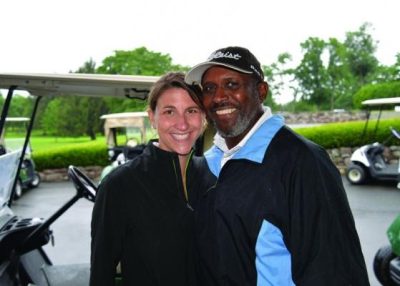 Photo'd: CMH supporters and golfers Stephanie Machionne and Greg Mosley at the annual Chip In For Columbia Memorial golf event at Columbia Golf and Country Club.
Hudson, New York – Columbia Memorial Health, community partners, local businesses and generous donors gathered on Aug. 7 at the Columbia Golf and Country Club to raise more than $53,000 to support CMH.
The event enjoyed major sponsorships from Greene Meadows Nursing & Rehabilitation Center, Pine Haven Nursing & Rehabilitation Center, and MetzWood Insurance. In addition, 104 businesses also supported the event with tee signs and donations of auction and raffle prizes. The sold-out event at one of the region's best-known golf courses was hosted by Professional Marc Levesque and the outstanding country club staff took excellent care of the golfers.
"We try to do something different for golfers every year to make this event a great success. But one thing that never changes is the outstanding commitment from our business partners, golfers and sponsors to raising money for important patient-care initiatives," said CMH President & CEO Jay P. Cahalan.
Money raised at the golf event will enable CMH to purchase state-of-the-art hospital beds and will fund several other important patient care initiatives.
Plans are already underway for next year's event. So save the first Monday in August and plan to "chip in" for CMH. To find out how you can support CMH, visit www.ColumbiaMemorialHealth.org/Foundation.