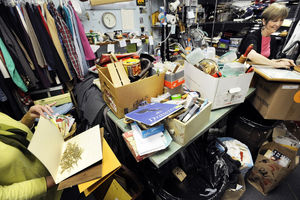 Bobbi Bush (left) opened a folder of pressed flowers while Carol Lavender examined a picture frame.
By David Lee Columbia-Greene Media registerstar.com
HUDSON — Every other month or so, the used clothing and sundry store Second Show on Warren Street in Hudson is overwhelmed with donated items, including clothes, shoes, books, records, plates, utensils and so much more.
The items come from many places, usually from people whose lives have dramatically changed — or maybe concluded — leaving behind the things that have clung to or comforted them through the decades.
People call the store, schedule a van to pick up the items or just leave it at the back door.
On Thursday morning, store manager Carol Lavender and assistant manager Bobbi Bush sorted through a tsunami of items.
"You've got to go through everything," Lavender said as she put a price-sticker on a small jewelry box. "Of course, it makes me think about all the stuff I have at home and what will happen to it."
While another person might find the task melancholy, Lavender and Bush do not seem to mind.
"These can go in the free pile," Bush said, opening a folder of pressed flowers. "Artists often find uses for things like this."
Bush and Lavender both have to decide what to do with a number of unusual items, such as a Band-Aid box filled with the metal foil seals from wine bottles, or an electric, portable, vinyl, plastic-hooded hair dryer. Lavender plugged it in and a little fan in the crown of the hood began to spin. The hood emitted a funky smell that seemed to come from the 1970s.
Some things are thrown away.
However, they occasionally find some very valuable things in the bottom of a box of junk, Bush said, such as a dress that had been donated and was sold in the store for several hundred dollars.
Thursday was also the first of three half-price sale days, so items were going out the front door almost as fast as items were coming in the back.
The Second Show is a fundraising tool for the Columbia Memorial Hospital Auxiliary and Operation Unite. Hours are Tuesdays through Saturdays from 10 a.m. to 5 p.m.