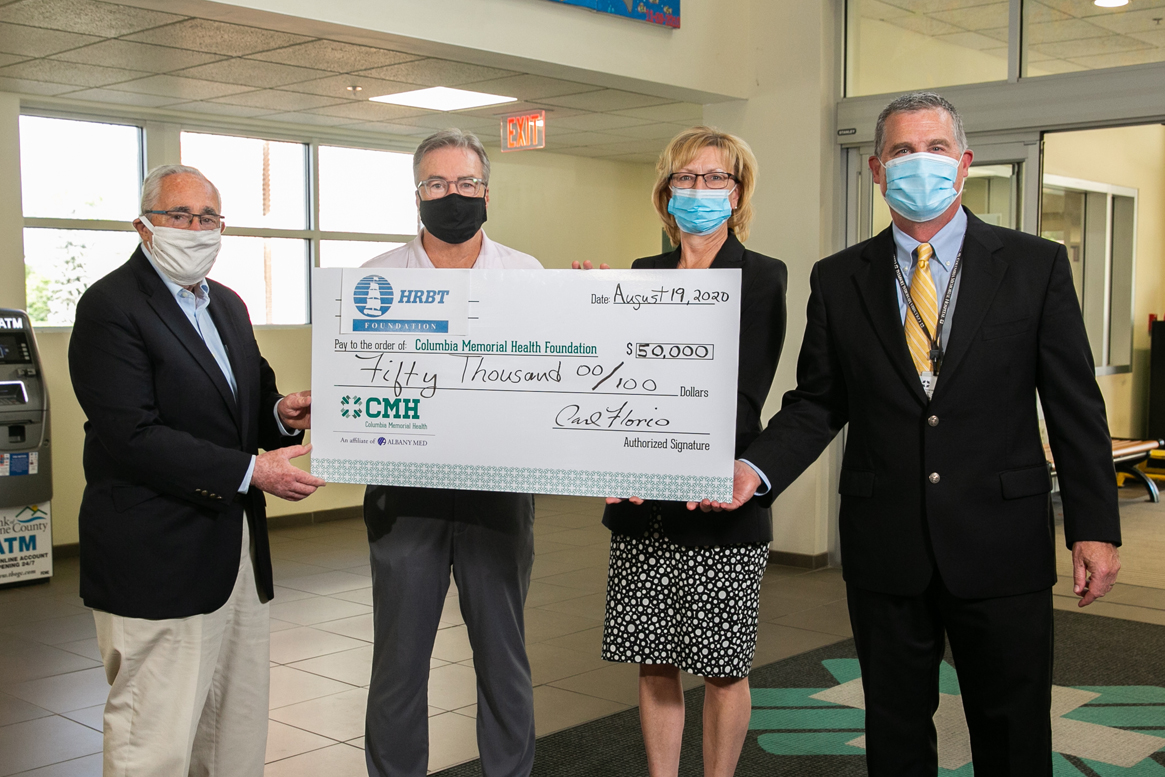 Funds Will Secure Upgrade To CMH's Cardiac Telemetry Technology
Hudson, N.Y. August 20, 2020 – The Columbia Memorial Health Foundation today announced it has received a $50,000 grant from the HRBT Foundation to upgrade Columbia Memorial Health's (CMH) state-of-the-art cardiac telemetry technology.
The technology, known as the SPACELABS Telemetry System, has been in use at CMH for several years. The upgrade to the system to be acquired via the HRBT grant will offer improved real-time recognition of cardiac waveform changes and provide immediate notification to the CMH medical team of irregularities. The benefit to patients is an even more rapid response, diagnosis and treatment of cardiac related events.
The system will further enhance CMH's pursuit of constantly improving clinical outcomes by providing seamless data acquisition and exchange across the hospital, and affording providers remote access to patient data.
The upgrade will also allow CMH to monitor patients on every hospital unit, including the Emergency Department and Rapid Decision Unit. This was a critical need identified during the COVID-19 health crisis that will continue to enhance the delivery of care into the future.
Carl A. Florio, President of the HRBT Foundation said: "The Foundation has supported CMH for many years. The members and I knew that we wanted to support this project to better serve patients and staff. Clearly, these funds will assist with the continued expert care that the hospital has always given."
Jay P. Cahalan, President and CEO of CMH, said: "Our continuous investment in the latest technology is vital to provide the best in patient diagnostics, treatment and outcomes. We are grateful for the tremendous continued support of the HRBT Foundation. The impact of their philanthropy and shared commitment to provide the very best care possible to the people of our region has been profound."
—
ABOUT COLUMBIA MEMORIAL HEALTH
Columbia Memorial Health is an advanced multi-specialty healthcare system serving more than 100,000 residents in Columbia, Greene and Dutchess counties at more than 35 primary care and specialty care centers. In addition, CMH's inpatient hospital, located in Hudson, has served our region since 1893 and is one of the most innovative and technically advanced facilities in the Hudson Valley. Columbia Memorial Health, along with Albany Med, Saratoga Hospital and Glens Falls Hospital, is part of the Albany Med Health System, the largest locally governed health system in the region.
ABOUT HRBT FOUNDATION
The Foundation was established by the Hudson River Bank & Trust Company at the time of its conversion to a public company in 1998. The Foundation continues its historic mission of philanthropic community support as an independent organization.