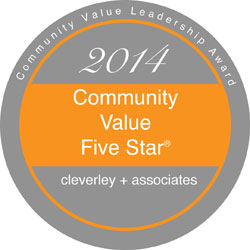 HUDSON, N.Y. – A leading national health care research firm recently recognized Columbia Memorial as a Five-Star Community Value Leadership Award Winner for achieving a series of high rankings as a top-quality, low-cost health care provider.
Cleverley + Associates' recently published 2014 State of the Hospital Industry report uses the Community Value Index® (CVI) to measure and rank the value a hospital provides to its community. Columbia Memorial achieved a series of CVI scores within the top 20 percent of all hospitals in its peer group to become a Five-Star Community Value Leadership Award Winner. The Hospital was one of 47 hospitals in New York that earned a Five-Star distinction.
"We are proud to have earned the Five-Star Hospital designation and we believe that it shows our commitment to high-quality care, community support, and smart financial management," said Jay P. Cahalan, President and CEO of Columbia Memorial.
Cleverley + Associates, based in Columbus, Ohio, is a leading healthcare financial consulting firm specializing in operational benchmarking and performance enhancement strategies. The Community Value Index was created to provide an assessment of a hospital's performance in four areas: financial strength and reinvestment, cost of care, pricing, and quality of care. The index shows that hospitals that have low costs, low charges, use financial resources efficiently for reinvestment, and provide a high quality of patient care are delivering a high degree of community value.