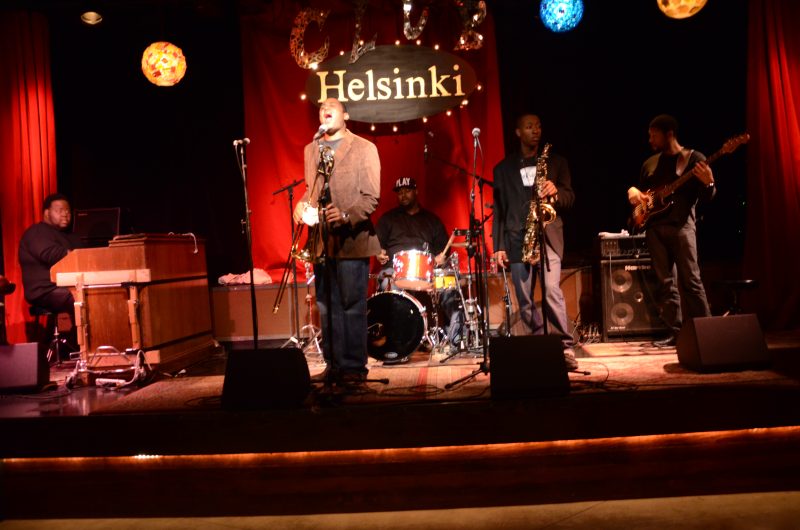 Event Supports Columbia Memorial Hospital & Kaaterskill Care
(Hudson, NY)  New Orleans landed squarely in Hudson's Club Helsinki on Saturday, February 4, when the Glen David Andrews Band straight from the Big Easy packed the dance floor and raised the roof at the 8th Annual Winter Blast to benefit Columbia Memorial Hospital and Kaaterskill Care Nursing & Rehab Center.
The event was hosted by Denise de Diego and Kevin Delahanty, with AOW Associates, Inc., serving as presenting sponsor. Featured sponsors were A. Colarusso & Son, Inc., CDPHP, and Whiteman Osterman & Hanna LLP. Thanks to the 250 in attendance, approximately $115,000 was raised for upcoming projects for the hospital and the Kaaterskill facility.
"This is for a great cause," de Diego said of the evening's festivities, in presenting Richard and Deborah Oliver of AOW Associates with a plaque honoring them for their contribution.
The proceeds from last year's Winter Blast had been dedicated to the upgrade of room furnishings and decor, renovations which "turned out beautifully," said Kaaterskill's Director of Nursing Regina Doebler. This time around, she said, the plan is to update Kaaterskill's rehabilitation area by separating it from the long-term care area and giving it its own entrance.
Jane Ehrlich, president and CEO of Columbia Memorial Hospital, said the hospital plans to continue to work on improving access to care and to "get our services out into the county, and to try to get our specialists more involved in Greene County. We want to try to grow those areas, while keeping our primary care practices flourishing."
Ehrlich credited Columbia-Greene Hospital Foundation Executive Director Betsy Gramkow and her staff for their excellent work coordinating the event. "They also did a great job putting together the Silent Auction," she said.
Among the items up for auction were a South African photo safari, a week at a private estate in South Africa, a Hudson Valley ballooning excursion, a wine and cheese tasting for ten at the Hudson-Chatham Winery, and a weekend for four at Otsego Lake.
Gramkow added that some of the proceeds from Winter Blast would also be going toward the renovation and expansion of the mental health unit at the hospital. "While mental health units across the state are closing, we are being proactive in patient services," she said.
Club Helsinki's Marc Shafler was "very happy that Winter Blast is at the Club again this year." When asked how the choice of the Glen David Andrews Band came about, he said, "Betsy wanted a party. Well, Glen is a party. He could raise the dead. He is a real powerhouse."
Over the course of the two-set show Andrews and his five-piece band proved Schafler's statement true, with the band time and again bringing the crowd to its feet and dancers spilling onto the dance floor.
Winter Blast is a "fun event. It's informal, with more mingling and mixing, and Club Helsinki is great. What began as a very small event now generates some serious funds," Ehrlich said.