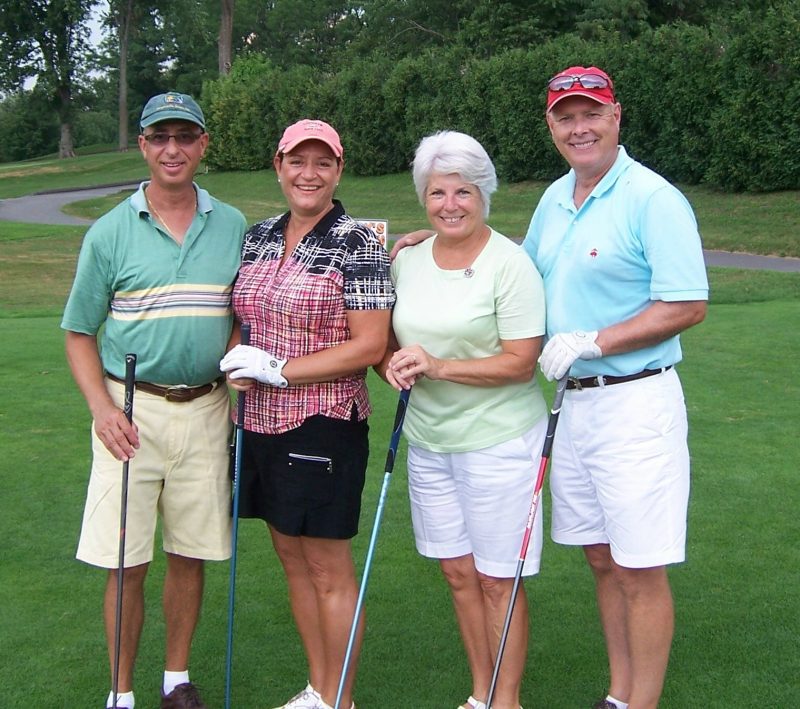 Pictured L to R: Winners of the Chip in For Columbia Memorial Hospital Golf Tournament, Fran Gavin, Beth Gavin, Karuvath Enu, MD and Ira Ginsberg
(Hudson, NY)  Columbia-Greene Hospital Foundation's annual "Chip in for Columbia Memorial Hospital" golf tournament raised more than $46,000 for the hospital. More than 100 golfers competed in the popular 18-hole mixed scramble tournament on Monday, August 6th at Columbia Golf and Country Club.
The tournament, now in its 16th year, raises funds to help the hospital provide the most advanced care for the families of our region. In the past five years alone, it has raised more than $185,000.
Capital District Physicians Health Plan (CDPHP) generously served as the Dinner Sponsor of this year's tournament. The Armstrong Family, Barbara and Peter Budelman, First Niagara, Beverly and Ira Ginsberg and Mohawk Hospital Equipment were Platinum Sponsors. In all, 68 sponsors supported the tournament.
"We would like to give special thanks to CDPHP for being this year's top sponsor, and to each of our many sponsors and golfers, all of whom are strong supporters of the hospital," said Betsy Gramkow, Executive Director of the Columbia-Greene Hospital Foundation. "We also extend our thanks to our golf committee, tournament co-chairs, Bill and Mary Gerlach, and to the Columbia Golf and Country Club and its head pro, Mark Levesque. Together, they make this important hospital fundraiser so successful."
"Mary and I are thrilled once again to have this level of support from all our sponsors, the committee, foundation staff and golfers," said tournament co-chair, Bill Gerlach. "We are blessed to be part of this event that helps Columbia Memorial continue its most vital mission in this community."
In addition to an exciting day of golf, participants were treated to lunch, dinner, raffle prizes and a live auction which saw active bidding on a weeklong vacation in Hilton Head, a chef's wine dinner at 677 Prime, and a day at the 2012 Deutsche Bank Golf Championships.
To find out how you can support Columbia Memorial Hospital, please contact the Columbia-Greene Hospital Foundation at 518.828.8239, visit www.supportcolumbiamemorial.com or email rorlando@cmh-net.org.
Columbia Memorial Hospital is a not-for-profit hospital serving Columbia, Greene and Northern Dutchess counties. The hospital has numerous locations in addition to its main campus in Hudson, including a comprehensive physician network. For more information or to find a physician, call 518.828.7601 or visit www.columbiamemorial.com.