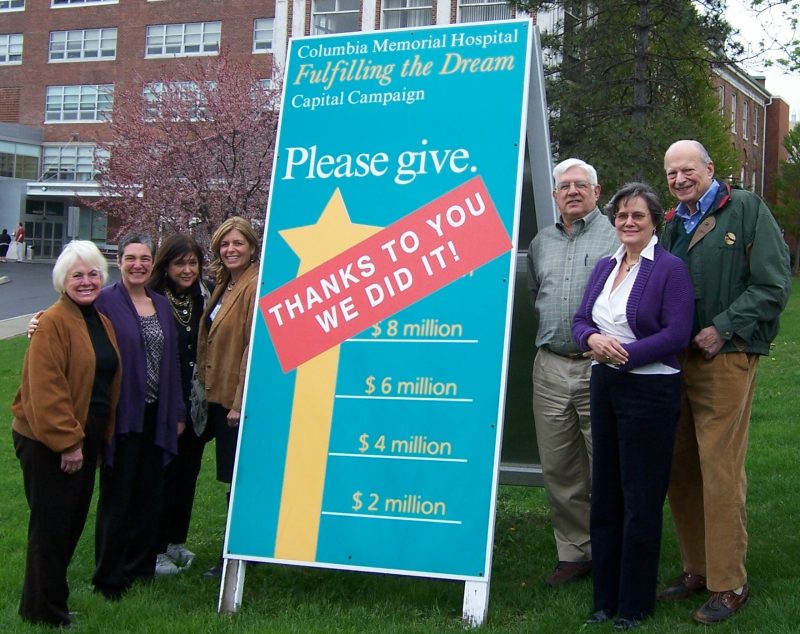 (Hudson, NY) The Columbia-Greene Hospital Foundation is very pleased to announce the successful completion of its "Fulfilling the Dream" capital campaign. The campaign, which exceeded its $10 million goal, is the largest and most successful fundraising effort in this community's history.
The capital campaign has funded significant renovation and expansion projects at Columbia Memorial Hospital and has made it possible to purchase state-of-the-art technology and medical equipment. "Every donation helps make Columbia Memorial even better for those who turn to the hospital for care," said Betsy Gramkow, Executive Director of the Columbia-Greene Hospital Foundation. "The results of our community's generous donations can be seen in nearly every corner of our hospital."
Gifts to the campaign have allowed the hospital to complete a host of projects, some of which include expansion and renovation of the Intensive Care Unit, the opening of the Dr. Stephen and Suzanne Menkes Child Advocacy Program, the beautifully designed Paul & Clara Kellner Cafe and the Abram and Helen Kittle Lobby, the connector between the hospital and the Medical Office Building, new parking facilities, an automated pharmacy medication system, and a Medical Imaging Department that features the latest in CT/angiography scans, MRI, bone density testing and digital mammography.
"The support for this campaign clearly indicates just how much Columbia Memorial means to the people of our area," continued Gramkow. "The boards of both the hospital and the hospital foundation express heartfelt thanks to all of the donors who made this campaign such a success. Gifts from our community make it possible for Columbia Memorial to renovate its facilities and purchase new equipment and technology so that the hospital is able to provide the highest quality care to everyone who comes through the doors. Every gift makes a real difference."
Columbia Memorial Hospital is a not-for-profit community hospital that has been serving our region more than 120 years. The hospital is a 192-bed acute care hospital that focuses on advanced surgery, primary care, and health education. The Hospital also operates Kaaterskill Care Nursing & Rehabilitation Center, a 120-bed facility in Catskill, as well as 25 outlying primary and specialty Care Centers throughout Columbia, Greene and Northern Dutchess Counties.