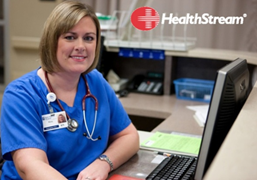 (Hudson) Health care is constantly changing, and important advancements are made every day. New research, new technology, new equipment, new policies and procedures.  How do Columbia Memorial Hospital doctors and staff stay on top of the many changes?
Two years ago, Columbia Memorial invested in an important tool: a web-based learning education system called HealthStream that keeps pace with the very latest information and health care advances.
HealthStream gives Columbia Memorial doctors, nurses, and allied healthcare professionals access to the education they need 24 hours a day, 7 days a week. Information can be accessed from practically anywhere, anytime – even from home.
Hospital President and CEO, Jane Ehrlich, recently turned to the Columbia-Greene Hospital Foundation Board of Directors to ask for a $5,000 grant to allow more hospital staff access to the HeatlhStream system. "Our standards are very high, and the world of health care is changing fast," she said to the Foundation Board. "HealthStream technology keeps our hospital staff on top of the latest changes. Of course, that's great for staff, but even more importantly, it's great for our patients."
Hospital Foundation Board members were enthusiastic and approved the hospital's $5,000 request to expand the HealthStream access to more hospital employees. "We should all feel great that gifts from donors are being used to educate hospital employees, so they are knowledgeable about the best ways to keep our community healthy," said Patti Matheney Schrom, Chairman of the Columbia-Greene Hospital Foundation Board. "Having the most qualified, best educated hospital staff is something we are extremely proud to fund."
Columbia-Greene Hospital Foundation is the funding partner of Columbia Memorial Hospital. Gifts donated by the community to the Foundation support initiatives at the hospital.