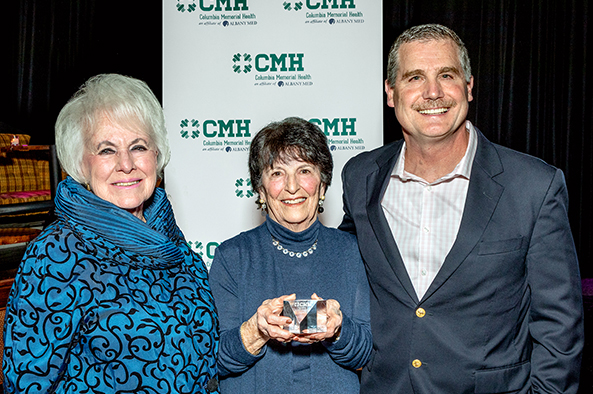 COLUMBIA MEMORIAL HEALTH'S 10th ANNUAL "WINTER BLAST" RAISES $110,000
Adored Community Leader Winnie Thorn Honored at February 1st Event
Hudson, N.Y. February 5, 2020
A packed Club Helsinki was the scene on Saturday, February 1st for a night full of moving tributes to Winnie Thorn, one of the community's most generous, gracious and adored benefactors, and the honoree of Columbia Memorial Health's (CMH) 10th Annual "Winter Blast" event.
With nearly 250 guests in attendance, the largest crowd ever for Winter Blast, Ms. Thorn was presented with CMH's prestigious Clara Kellner Award for public service. Clara Kellner was a long-standing volunteer and benefactor of CMH and former chairwoman of the CMH Board of Trustees. The award carries her name to recognize individuals who continue Mrs. Kellner's legacy of volunteerism and philanthropy on behalf of CMH and the greater community.
Saturday's program included proclamations honoring Ms. Thorn's dedication to CMH and the community presented from Congressman Antonio Delgado, New York State Senator Daphne Jordan, Assemblymember Didi Barrett, and Assemblyman Chris Tague. The evening featured dinner, dancing, a popular silent auction, and a live performance by Thee Mr. E Band.
Anne Schomaker, Vice Chair of the CMH Foundation Board, and CMH President and CEO Jay Cahalan presented the award to Ms. Thorn, along with a tribute book filled with letters and poems of appreciation.
"There are few who have done more to help CMH than Winnie Thorn," Ms. Schomaker said. "Her generosity and her love of community have made an indelible impact on CMH's ability to care for the people of Columbia and Greene counties. She will always have our thanks and our deepest affection."
Mr. Cahalan added: "I've had the honor of knowing and working with Winnie for nearly 20 years. She is a very special person, not only in the magnitude of her positive impact on CMH and the community generally, but in the way she treats everyone she meets with kindness, respect and genuine concern. There are really no words to fully convey my appreciation for her."
Ms. Thorn's commitment to CMH and the community is remarkable. She currently serves on the CMH Foundation Board of Trustees. She has served on the CMH Board of Trustees and as Vice President of the Columbia Memorial Hospital Auxiliary. Her volunteer service extends to numerous organizations including the American Cancer Society, Columbia-Greene Community Hospice, Fund for Columbia County Committee at Berkshire Taconic Community Foundation, Friends of Olana, Columbia-Greene Community College, Columbia County Council on the Arts, Hudson Junior Service League, Jaycees, Boys' Club Auxiliary, and on the Vestry of Christ Episcopal Church in Hudson.
Ms. Thorn has been the recipient of several prestigious American Cancer Society (ACS) awards including the Mary Holland Award for outstanding Crusade volunteer, Volunteer of the Decade (New York State Division), the National Volunteer Leadership Award, and the St. George Medal – the ACS's highest national honor for volunteer service.
Ms. Schomaker and Mr. Cahalan offered a special thanks to the evening's Presenting Sponsor, Columbia Memorial Hospital Medical Staff; to Featured Sponsors, CDPHP, Kneller Insurance Agency, Greene Meadows Nursing and Rehabilitation Center and Pine Haven Nursing and Rehabilitation Center; and to all sponsors and attendees for their generosity.
© Beth Schneck Photography