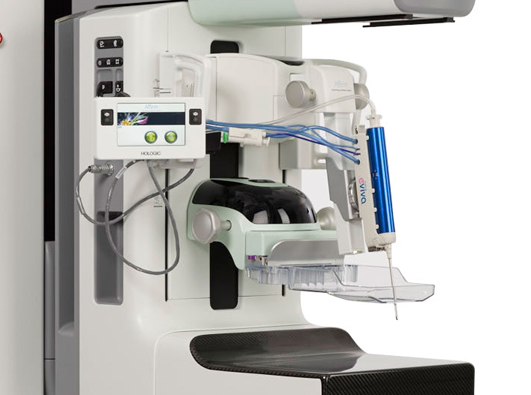 Hudson, N.Y.  March 19, 2019
Columbia Memorial Health today announced it is now offering advanced, lifesaving 3-D mammography at its Catskill and Hudson campuses. The leading edge imaging technology generates a three-dimensional picture of the breast, giving providers a more complete view of tissue compared to conventional two-dimensional mammogram images.
Several studies have found 3-D mammography to be more effective than conventional mammography in identifying cancers earlier, which can lead to more effective and less aggressive treatments that yield better outcomes for patients. It is particularly more effective with denser tissues, and has been found to reduce the number of false positives.
"This technology is at the leading edge of medicine and is a true game-changer in the detection and treatment of breast cancer," said Tariq Gill, M.D., CMH's Chief of Medical Imaging. "More than 100 women from Columbia and Greene counties are diagnosed with breast cancer each year. This technology will help us detect these cancers earlier, giving our patients earlier access to treatment options that are most effective and best suited to their needs.
"We believe this technology absolutely will save lives through earlier detection," Dr. Gill said.
The acquisition of the 3-D technology was made possible in part through the generosity of community members who donated to the Columbia-Greene Hospital Foundation, which provided $600,000 in funding for this initiative.
Patti Matheney, chair of the Columbia-Greene Hospital Foundation, said: "We see our donors as real heroes who make a profound difference in the lives of others. This lifesaving project is a great example of the power of their generosity and thoughtfulness. We are so very grateful."
Patients are encouraged to ask their providers if 3-D mammography is right for them.