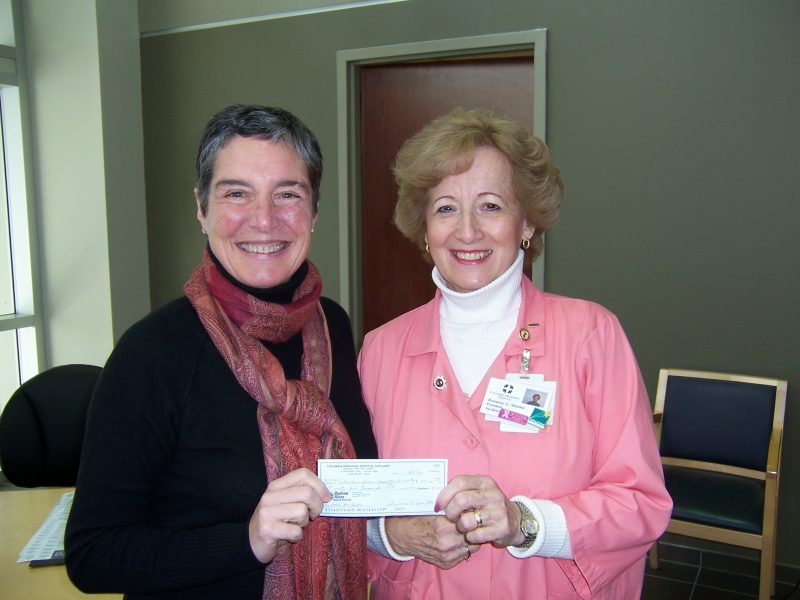 (Hudson, NY.) The Columbia Memorial Auxiliary recently presented Columbia Memorial Hospital and Columbia-Greene Hospital Foundation with a check for $25,000 to fund renovations, expansion, and important new technology projects at the Hospital. The Auxiliary is composed of over 242 active community volunteers who contribute more than 15,000 hours of service to the Hospital each year. They also give freely of their time and talents by coordinating fundraising activities at Columbia Memorial and in their communities.
"It has been the mission of the Auxiliary to support Columbia Memorial both financially and through volunteer service. We are proud to be able to support the Hospital," said Rosemary Maichin, Auxiliary President. "The Auxiliary is for people who enjoy working with others, and we love what we do."
"Members of the Auxiliary have spent more than 60 years volunteering and raising funds for Columbia Memorial. It is impossible to put a price tag on these extraordinary gifts," said Betsy Gramkow, Executive Director of the Columbia-Greene Hospital Foundation, as she accepted a check from Mrs. Maichin. "We are extremely grateful to all of our Auxiliary members for helping the Hospital in so many important ways. We really appreciate everything you do."
Members of the Auxiliary are often the first point of contact for visitors to Columbia Memorial, offering directions and answering questions. Auxiliary volunteers run craft, book, and bake sales. They volunteer in areas throughout the hospital including the Auxiliary information desk, same day surgery, patient registration, medical records, and at the Second Show on Warren Street in Hudson. "I don't think most people realize that giving their time is like giving part of their life. You're giving to the community, and it feels wonderful," said Mrs. Maichin. "I encourage everyone who cares about helping others to join the Auxiliary and volunteer at our Hospital." For more information about joining the Columbia Memorial Hospital Auxiliary, call 518-828-8028.
Columbia Memorial Hospital is a not-for-profit community hospital that has been serving our region more than 120 years. The hospital is a 192-bed acute care hospital that focuses on advanced surgery, primary care, and health education. The Hospital also operates a 120-bed long-term care site in Catskill, as well as 26 outlying primary and specialty Care Centers throughout Columbia, Greene and Northern Dutchess Counties.
Photo: Betsy Gramkow, Executive Director, Columbia-Greene Hospital Foundation accepts a check from Rosemary Maichin, President, Columbia Memorial Hospital Auxiliary.