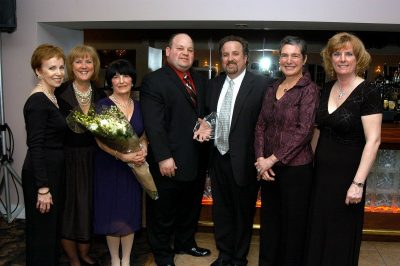 The 6th Annual Snow Ball, an event produced by the Columbia-Greene Hospital Foundation to benefit the Kaaterskill Care Nursing & Rehabilitation Center, was held Friday, February 5th at Anthony's Banquet Hall in Leeds, New York.
First Niagara hosted the event, which raised a record $65,000. Proceeds from the evening will be used to purchase furnishings and amenities that will improve the living environment for residents, patients, and their families at Kaaterskill Care.
"We are enormously grateful to our host, First Niagara, to our many sponsors, and to the more than 200 friends who attended this very successful event," said Betsy Gramkow, Executive Director of the Columbia-Greene Hospital Foundation. "We are particularly pleased to honor Winnie Thorn, whose volunteer service has touched the lives of so many. Ms. Thorn leads by example and inspires others with her civic passion. Our community would not be the same without her many contributions."
Kaaterskill Care provides long term care, convalescent care, rehabilitation, and sub-acute healthcare. It is a 120-bed not-for-profit heath care facility affiliated with Columbia Memorial Hospital and is located in a secure, community-based setting in Catskill.
Pictured left to right: Jane Ehrlich, President & CEO, Columbia Memorial Hospital; Regina Doebler, Director of Nursing Services, Kaaterskill Care; Winnie Thorn, 2010 Snow Ball Honoree; Todd Zbytniewski, Vice President, Kaaterskill Care; Doug Thorn, Regional President, First Niagara; Betsy Gramkow, Executive Director, Columbia-Greene Hospital Foundation; Gina Orlando, Director of Operations and Special Events, Columbia-Greene Hospital Foundation.