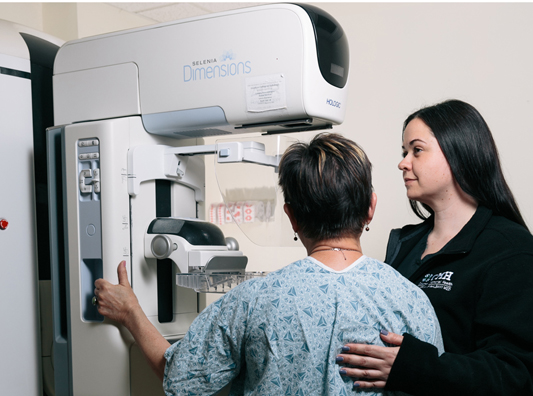 Hudson, N.Y.  April 23, 2019
Columbia Memorial Health today announced it will conduct a special auction at its 31st Annual Hospital Ball with proceeds earmarked for the purchase of innovative 3D breast biopsy technology for CMH's Women's Health Services.  The Hospital Ball "Le Cirque," hosted by the Columbia-Greene Hospital Foundation (C-GHF), will be held on June 1 at the Point in Catskill.
Columbia Memorial acquired 3D mammography technology earlier this year through a generous donation from the C-GHF. The ground breaking technology, currently available in both Hudson and Catskill, provides superior images that make it possible to identify early breast cancer abnormalities within a three dimensional plane. Suspicious abnormalities identified by mammography are subsequently biopsied, ideally with a minimally invasive technique.
Proceeds from the Ball's special auction will be used to acquire an advanced 3-D breast biopsy system that will allow physicians to precisely sample the abnormalities identified by CMH's 3-D mammogram.  The stereotactic 3D biopsy system, known as Affirm, will provide precise targeting of a mammographic abnormality in a safer, accurate and more comfortable environment for the patient.  Most importantly, this system will help save lives by yielding earlier and more accurate detection of breast cancer.
Further augmenting CMH's comprehensive mammography service is the extraordinary radiology and pathology expertise now available at CMH through its affiliation with Albany Med. Today, the Albany Med and CMH radiology and pathology services are fully integrated, which means that mammograms and all imaging and diagnostic studies are interpreted by the region's leading experts.
"The generosity and thoughtfulness of our donors made CMH's 3-D mammography service a reality," said C-GHF Chairwoman Patti Matheney. "We now have an incredible opportunity to build on our success in fighting breast cancer right here in Columbia and Greene counties. You can literally be a lifesaver by donating to this year's Ball and special auction."
Columbia Memorial Health surgeon Rakel Astorga, M.D., said: "The clinical implications of this technology are profound. Pairing our existing 3-D mammography with advanced 3-D biopsy capabilities will enable far more precise location and sampling of tissue, minimizing the impact on surrounding tissue and yielding a better outcome for our patients."
"Our community has always been our partner as we've advanced through the years," said CMH President and CEO Jay P. Cahalan. "We have something very special here at CMH, and it's because of the unique bond we have established with our patients, employees and community members. We are very grateful for all of their support."
Ball attendees, and those unable to attend the Ball, can pre-bid on the auction item by contacting Gina Orlando, Columbia-Greene Hospital Foundation, at 518-828-8239 or at rorlando@cmh-net.org.