Hudson, N.Y. October 24, 2019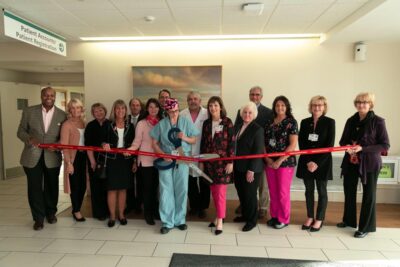 Medical and community leaders joined today in Hudson to unveil state-of-the-art 3D breast biopsy technology that will significantly improve the diagnosis, treatment and outcomes for breast cancer patients in Columbia and Greene counties.
The stereotactic 3D biopsy system, known as Affirm, will provide more precise targeting of tissue abnormalities identified through CMH's 3D mammography capabilities, yielding earlier and more accurate detection of breast cancer. The technology was acquired through the generosity of community members who contributed to the Columbia Memorial Health Foundation.
"This life-saving 3D biopsy technology, paired with our 3D mammography service, provides our patients with the most advanced diagnostic care available in locations that are comfortable, convenient and close to home," said CMH President and CEO Jay P. Cahalan.
In addition to offering 3D mammography and 3D biopsy services, CMH has significantly augmented its radiology and pathology expertise through its affiliation with Albany Med. The Albany Med and CMH radiology and pathology services are now fully integrated, which means that mammograms, and all imaging and diagnostic studies, are interpreted by the region's leading experts.
Tariq Gill, M.D., Chief of Radiology at CMH said: "Each year in the U.S. more than 268,000 women are diagnosed with breast cancer. This technology, now available right here in our community, is a tremendous step forward in our ability to detect and diagnose early stage breast cancer, significantly improving the likelihood of successful treatment."
Columbia Memorial Health Foundation Vice Chair Anne Schomaker said: "This technology is truly a gift of life made possible through the tremendous generosity of our donors. We are grateful beyond words to our supporters who continue to rally around CMH to ensure its essential mission can continue and expand."