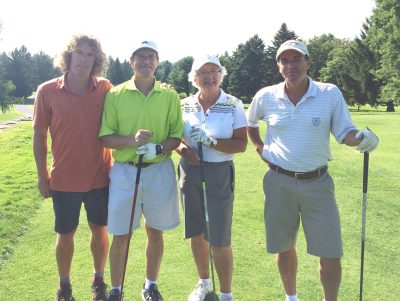 Hudson, New York – Over 100 golfers and friends came out to support the Columbia-Greene Hospital Foundation's 18th annual 'Chip in for Columbia Memorial' charity golf outing on Monday, August 4, 2014.
The mixed scramble event, which took place at the beautiful Columbia Golf & Country Club in Claverack, kicked off with a shot gun start at 12:30 p.m. Throughout the event, golfers were challenged to hit a hole-in-one and win either a 2014 Toyota Camry offered by Kinderhook Toyota or a week's vacation in Hilton Head offered by MetzWood Insurance. The competition was spirited but no one succeeded in winning these coveted prizes.
Immediately following play was a celebratory reception and dinner, raffle drawings, live auction, and awards ceremony. During dinner, Columbia Memorial President and CEO, Jay Cahalan, extended his sincere appreciation to all of the golfers and sponsors, to Columbia Golf & Country Club, and to Bill and Mary Gerlach, tournament coordinators.
The tournament grossed more than $43,000 and all proceeds from the outing will support services that benefit patients of Columbia Memorial and enhance the health and well-being of our entire community.
About Columbia Memorial
Columbia Memorial is an advanced multi-specialty health care system serving more than 100,000 residents in Columbia, Greene and Dutchess counties at more than 40 primary and specialty care centers located throughout the region, including a 120-bed long-term care facility, Kaaterskill Care, in Catskill.
In addition, Columbia Memorial's inpatient hospital, located near downtown Hudson, has served our region since 1893 and is today one of the most innovative and technically advanced facilities in the Hudson Valley. The hospital focuses on advanced surgery, primary care and patient education. The mission of Columbia Memorial is to provide our communities with safe, high quality, comprehensive health care services in a dignified and compassionate environment.